What to Pack for the Camino de Santiago
If you're packing for your first walking holiday on one (or more!) of the routes that make up the Camino de Santiago, then you may well be wondering what to pack!
The first tip I can offer you (from hard won experience) is to pack light! The main difference of course between a walking holiday and a holiday by the pool is that you have to carry everything with you, so just remember that if you pack it you're going to haul it all the way.
The second tip is that, due to the sheer variety of trails that make up the Camino de Santiago, it is difficult to offer packing advice that is one size fits all. It's a good idea to check out your route through a Camino specialist like Follow the Camino to discover the topography and typical weather of the route you're walking.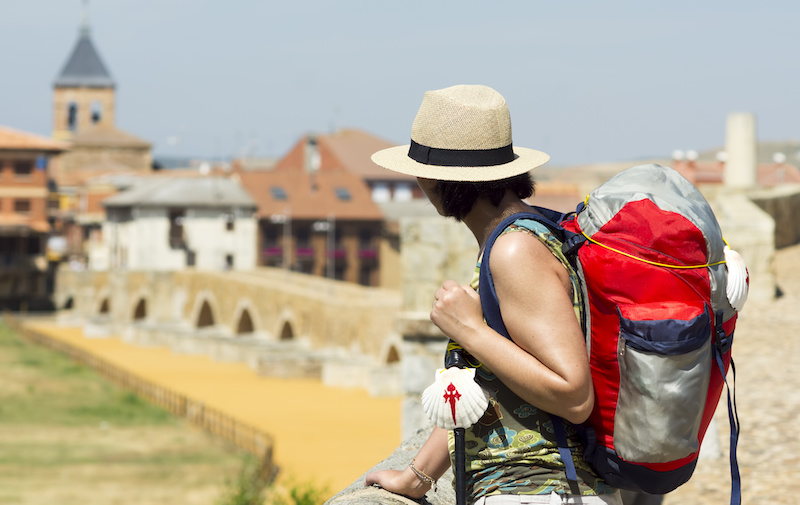 That being said, some things are pretty universal for any walking holiday, so give serious consideration to packing:
Comfortable Walking Shoes
You and your shoes will be getting very well acquainted over the duration of your walking holiday, so make sure you pack some good ones. Indeed, your shoes can make or break your walking holiday, so treat them with the respect they deserve as probably the single most important piece of kit you will be bringing.
If you've never bought a pair before, it is well worth visiting a specialist hiking or outdoor sports shop to get help selecting the right pair. Also – break them in before you go by taking them on increasingly longer walks near your home.
Hiking Socks
Almost as important as the shoes themselves are the socks that you will wear underneath.
Do not assume that regular socks are going to do the job – because they won't. Regular socks are just not built for the mileage and movement you will be going through on a walking holiday. Amongst other things, they will bunch and pinch your skin, causing blisters. Blisters on a walking holiday are not fun!
Waterproof Jacket
Do not make the mistake of going on a walking holiday without a waterproof jacket. Yes, it's easy to see the thinking behind leaving it out of your packing. As mentioned above, whatever you pack you have to carry. So do you really need a waterproof, especially if you are going during the summer?
The answer, I'm afraid, is yes!
No matter the time of year, you can still expect showers and cold mornings and you will need a decent jacket for both. Purchase one that is lightweight and folds up small and you will barely even notice you're carrying it – until of course it starts raining, and then you will be glad you packed it!
Trousers
Obviously you will need to take some trousers – in fact, you should probably take trousers on all of your holidays, a little bonus tip there.
But what trousers should make the cut for a walking holiday? Jeans are a no no, they are too heavy, don't deal with moisture well and will have you sweating buckets.
Take at least two pairs of good, lightweight walking trousers and a couple pairs of shorts. If you want something a little fancier for evening meals or stopovers consider a pair of light cotton trousers than can fold up easily into your bag.
A Kindle
Finally, if you like to read to relax, then you should really consider packing your Kindle instead of a paperback or two. It's lighter for one thing, and it can hold multiple books – you don't want to start Chapter 1 of your only paperback halfway up a mountain pass only to realize you don't like it!